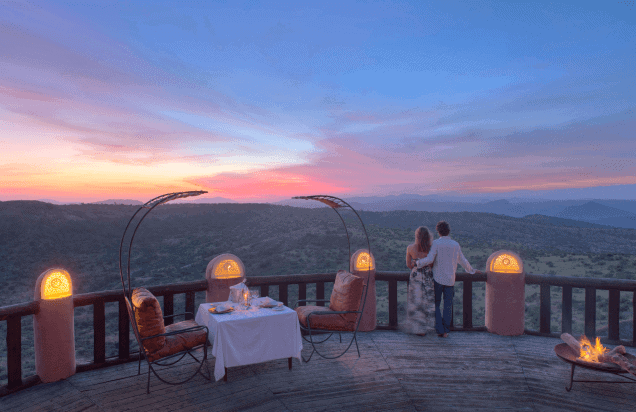 One of the most luxurious lodges in Northern Kenya coupled with perfected views. Ole Ntile Lodge is nestled in the middle of the wild with spectacular views and wonderful wildlife. BOOK NOW
Ol Lentille Lodge: A Romantic and Luxury Safari Destination in Kenya
Are you looking for a romantic place in Kenya, a Kenya romantic safari, or a Kenya luxury safari? If so, you might want to consider Ol Lentille Lodge, a hidden gem in the heart of Africa. Ol Lentille Lodge is a secluded and exclusive lodge located in the Laikipia region of Kenya, on a 40,000-acre conservation area. It is the perfect place to escape the crowds and enjoy the beauty and tranquility of nature.
Ol Lentille Lodge offers four fully serviced and individually designed villas, each with its own staff, personal Maasai guide, and vehicle. You can choose from the Chief's House, the Sultan's House, the Colonel's House, or the Eyrie, depending on your preferences and needs. Each villa has its own unique features and amenities, such as a private plunge pool, a rooftop star bed, an outdoor bathtub, a fireplace, a library, or a telescope. You can enjoy stunning views of the landscapes and wildlife from your villa, or explore the area with your guide.
Ol Lentille Lodge also offers a variety of activities to suit your interests and mood. You can experience game drives, camel safaris, mountain biking, quad biking, hiking, or horse riding. You can also visit the local communities and learn about their culture and traditions. You can participate in their activities, such as beadwork, dancing, or singing. You can also support their projects, such as education, health care, or water supply. Ol Lentille Lodge is more than just a lodge, it is a place where you can immerse yourself in the magic of Africa and connect with its people and nature.
If you are interested in booking your stay at Ol Lentille Lodge click here to get instant quotes
What is the best time to visit Ole Ntile Lodge?
The best time to visit Ole Ntile Lodge is during the dry season, which typically runs from June to October. During this period, wildlife is more concentrated around water sources, making it easier to spot animals during safari activities. The weather is generally pleasant, with lower chances of rain compared to the wet season.
Is Ole Ntile Lodge Expensive
The pricing of Ole Ntile Lodge varies over time and depends on several factors such as the time of year, the type of room or package you choose, and the level of luxury and amenities offered. Ole Ntile is one of the best of Kenya Luxury Lodges and therefore its pricey but the price is nothing compared to the experience of the best Kenya safari. Don't miss this opportunity to experience the romance and luxury of Ol Lentille Lodge.
Explore the untamed beauty with our safari packages or just a hotel booking! We make it happen.
Check out other Kenya Safari Packages in Kenya HERE