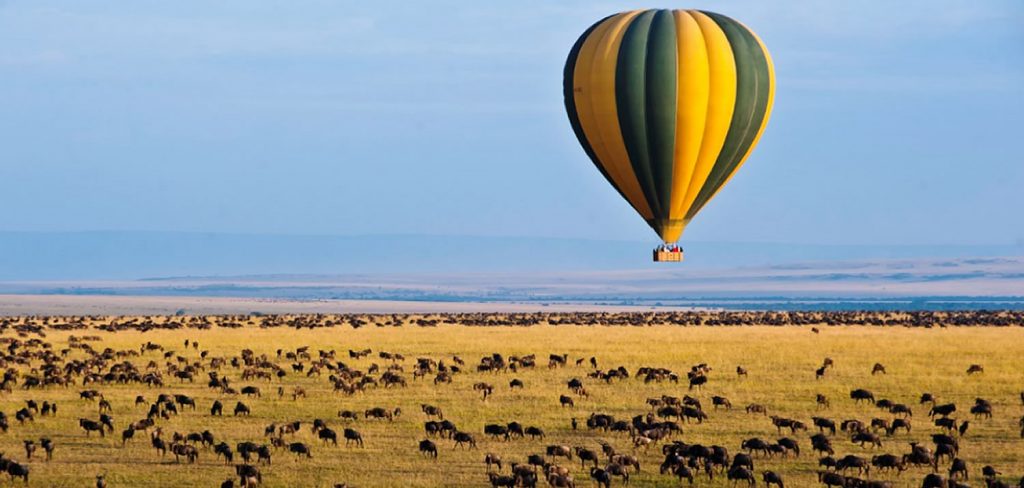 Maasai Mara National Reserve – Narok County – Kenya
The Masai Mara is a large game reserve in south-western Kenya, which is effectively the northern continuation of the Serengeti National Park game reserve in Tanzania an its administered by Narok County. Named after the Maasai people (the traditional inhabitants of the area) and their description of the area when looked at from a viewpoint – "Mara", which is Maa (Maasai language) for spotted: an apt description for the circles of trees, scrub, savannah and cloud shadows that mark the area. It is famous for its exceptional population of Big Cats, game, and the annual migration of zebra, Thomson's gazelle and wildebeest from the Serengeti every year from July to October, a migration so immense it is called the Great Migration.
Masai Mara National Reserve about 1510 sq km is the most famous and most visited reserve in Kenya. It offers breathtaking views and extraordinary density of animals including the "Big Five" and many varieties of plains game.

An impressive feature is the annual migration of wildebeest, zebra and gazelle from the plains of the Serengeti that cross the Tanzanian border and rivers to reach the Mara's lush grassland from late June, hunted by the predators: lion, leopard, cheetah, hyena and circled by vultures as the journey unfolds. Their dramatic river crossings are a reality for tourists visiting in July – August.
One can take a breathtaking balloon ride usually done very early in the morning before the winds get hoarse and gives you an experience of a life time viewing game from above coupled with a champagne breakfast. Many of this can be done from most lodges in the Masai Mara

The Masai Mara Wildlife
Apart from the seasonal migration, gameviewing is excellent year round. Game includes: elephant, Black Rhino, buffalo, plains zebra, roan antelope in small numbers, white-bearded gnu, Oribi, warthog, Thomson's and Grant's gazelle, hartebeest and the big cats; the rivers are home to hippo and crocodiles. Maasai Mara has the largest population of lion compared to other parks in Kenya.
Bird life in Masai Mara
Mara is known to habour profuse birdlife as well as wildlife. However many waterfowls abound as well as savannah fowls. These include red winged schalow's turaco, white-tipped crest, rosses turaco, orange buff pel's fishing owl, wary guinea fowl. The open plains birds include Jackson's bustard, black-bellied hartlaubs bustard. 53 species of birds of prey have been recorded. Secretary birds are common.
Accommodation

Accommodation ranges from stone lodges to luxury tented camps, to camping sites. Some of them include Keekorok lodge, Sarova Mara Tented Camp, Fig Tree Tented Camp, Mara Simba Lodge, Mara Serena lodge, Kichwa Tembo Camp, Mara Sopa Lodge, Siana Springs, Ol tome Resort, Mara Intrepids, Mara Explorer, Governors camp, Cottars 1920 among others.